www.kaeser-kompressoren.maxtrader.eu
[Poland]

Condensate Drains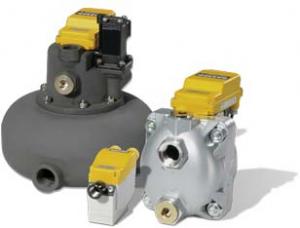 Technical specification
Series ECO DRAIN
for compressor capacities up to 1000 m³/min


Industrial standard ECO DRAIN
Rugged, reliable and long-lasting are the qualities essential for industrial applications and these are provided in full by the ECO DRAIN series. Versions are available to suit even the most hostile operating conditions such as highly aggressive condensate, freezing temperatures, high pressure or vacuum.


Level sensor
The capacitive level sensor has no wearing parts and measures all types of condensate. It is immune to contamination and deposits and works with absolute reliability providing the basis for sure condensate drainage.


Intelligent control electronics
The control electronics operate the discharge valve with such fine precision that all collected condensate is discharged without loss of compressed air. No loss of air = no loss of energy = no loss of money! All components are sealed against water ingress to class IP 65.


Self-monitoring
Should an alarm situation arise (e.g. a blocked discharge line) the unit waits 60 seconds before entering the alarm mode in which it continues to operate but on a timer basis with the solenoid valve opening for 7.5 seconds every 4 minutes. A flashing LED indicates the fault and a volt-free contact is also provided by which an alarm signal can be sent to a control centre or a free input on the compressor controller.


Simple installation and maintenance
Standard pipe fittings make connection to the condensate collecting point simple and an electrician is needed only for the installation. The electronics are modular with a 24 volt control unit and a mains power pack connected to the mains supply by a simple plug. Withdrawing the plug renders the unit safe for maintenance.
Additional information:
| | |
| --- | --- |
| Model/Article number: | ECO DRAIN |
| Brand: | Kaeser |
| Price: | Ask for price |
Category: Construction -> Installations -> Special installations
Kaeser Kompressoren Sp. z o.o.

Street:
Taneczna 82
City:
Warszawa
Postal code:
02-829
Region:
Mazovia
Country:
Poland
Phone:
+48 22 322 86 65
Fax:
+48 22 322 86 66

---

Contact person

Name and Surname:
Robert Ryt
Phone:
+48 22 322 86 65