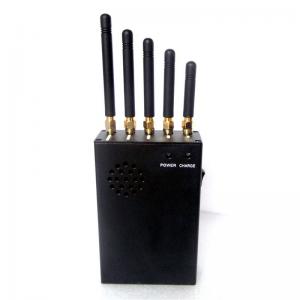 Product Description
Do you still think that owning a cell phone jammer that can both block 4G LTE and 4G Wimax signal is a dream? Then with the 3G/4G All Frequency Portable Cell Phone Jammer with 5 Powerful Antenna (4G LTE + 4G Wimax) being invented, this goal can be achieved. Besides jamming the 4G LTE and 4G Wimax signals at the same time, it also owns the ability to block CDMA, GSM, DCS, 3G signals as well. This is really the most perfect and powerful jamming device by now.
Another big merit of this portable cell phone jammer you should pay attention is that with a car charger it can be used in the car which give you more convenience. Besides it owns cooling fan, so the working temperature of it won't be high. If so no matter in hot summer and cold winter it can works as well.
In a word, this is really a perfect cell phone jammer no matter seen from the function, the price and the quality. Are you attracted? If you are looking for a jamming device like this, do not hesitate, just take action and add this perfect portable cell phone jammer to your cart.
Specifications
Isolating Signal Bandwidth:
-CDMA(851MHz-894MHz)
-GSM(925MHz-960MHz)
-DCS(1805MHZ-1880MHZ
-PCS(1930MHZ-1990MHZ)
-3G(2110MHZ-2185MHZ)
-4G (LTE): 725-785MHZ
-4G (Wimax): 2300-2410MHZ
Power Supply: 50 / 60 Hz / AC 100 ~ 240V /DC12V,3A
Battery: Ni- ion battery DC7.4V/2600mA/h
Continue using time: Around 60 minutes
Total output power: 3W
Jamming Range: Radius 5-15M (depend on cell phone signal Length)
Size: L119 x W74 x H29mm (Not included Antenna)
Weight: 0.75kg
Color: Black
Accessories
Jammer
5*Antennas
Car Charger
AC Charger
Note: The jamming distances we mentioned on website are for customer"s reference only. The actual jamming distance will be varied depending on the signal strength and the use location and if full charges, etc.