Gold Drop sp. z o.o.
[Poland]

Floor emulsion
Print this page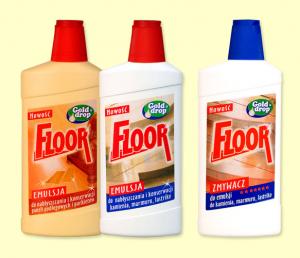 It is one of the most modern products for maintenance of the following types of floors: floor panels, lacquered planks, parquet floors, linoleum and PVC tiles. Self-shining, it provides a pleasant, long-lasting fragrance. DOES NOT REQUIRE POLISHING. Its use results in a quick shiny floor appearance. Floors covered with emulsion are resistant to dust re-accumulation. On the contrary to competitive products, FLOOR emulsion can easily be removed by hot water with suds. The product is not flammable owing to its formula based on water emulsion.
Two versions available: for floor maintenance inside the building and for external floors, tombstones and other surfaces exposed to harmul influence of atmosphere.
FLOOR - emulsion remover - a product dilutable with water for removing dirty emulsion in heavy-duty areas. To be applied on internal and external floors.
Additional information:
| | |
| --- | --- |
| Model/Article number: | FLOOR |
| Place of origin: | Poland |
| Brand: | Gold Drop |
| Price: | Ask for price |
| Quality/Certifications: | ISO 9001 i ISO 14001 |
Related products: Chemicals & Plastics ->Chemical products -> Household chemistry
Gold Drop sp. z o.o.

Street:
Rzeczna 11
City:
Limanowa
Postal code:
34-600
Region:
Lesser Poland
Country:
Poland
Phone:
+48 18 3301610
Fax:
+48 18 3301660

---

Contact person

Name and Surname:
Monika Smoter
Phone:
+48 18 3301651
Mobile:
+48 608480204