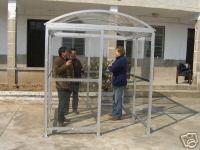 Smoking Shelter
With new laws soon to be in place preventing smokers from lighting up at work, indoor public areas, restaurants, Pubs and even in doorway entrances, a Smoking Shelter will be required to help keep your staff happy on their hard earned cigarette break!
Our shelters accommodate 4-6 people comfortably and are constructed from Perspex and toughened Aluminium.
The shelter comes in the form of a kit all securely packaged, with easy to follow instructions. We anticipate no more than 1-2 hours construction time.
A quick overview of the construction process is as follows:
1) Construct all three double walls
2) Construct single wall
3) Join all three double walls and single wall using the patented connection strips
4) Connect structure rods to the base foot flanges
5) Construct roof base
6) Complete roof structure
PLEASE ASK FOR BULK ORDERS...